Thank you to Alliance Française member Rosie Carbo, a Texas freelance journalist, who wrote this narrative of our 2019 Bastille Day celebration. Rosie wrote feature stories for nearly 10 years at The Dallas Morning News. You can also see an online photo gallery of the event below:
French Jazz with Christine Albert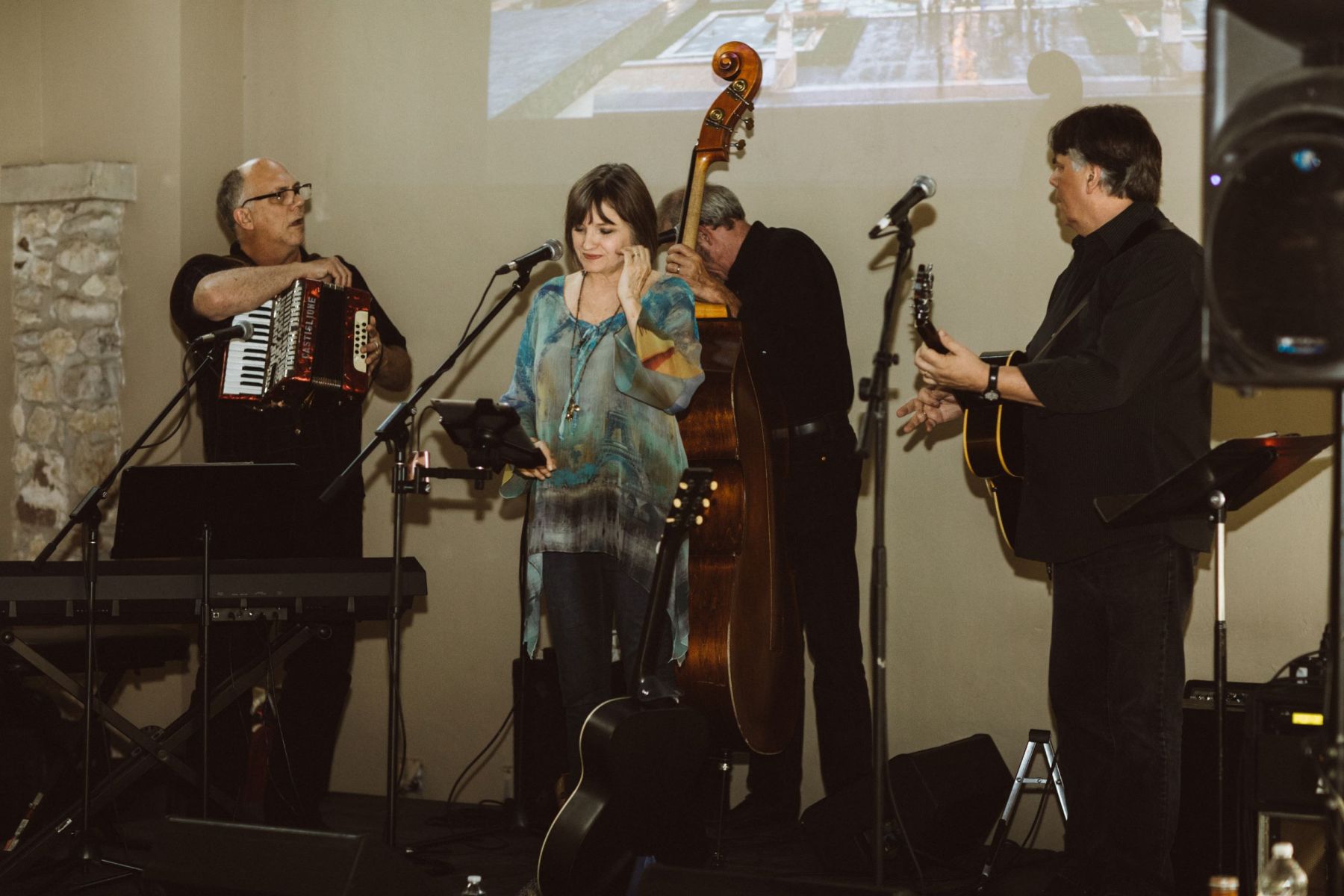 The Veranda, San Antonio's venerable special events venue, was the setting for "la Fête nationale," held Sunday, July 14, and sponsored annually by Alliance Française of San Antonio.
"The food was delicious, the wine was excellent, and the Veranda is so beautiful; it's the perfect venue to pretend you're in France," said Sandra Wilson, an AF member who danced the night away with her friend, Earl Parker.
Bastille Day celebrates the storming of a Paris prison in 1789. The event ignited the French Revolution. In fact, the celebration is observed not only in France but worldwide by Alliance Française chapters and French restaurants.
About 100 members and guests attended the local Bastille Day celebration, held from 6 to 9 pm in the historic mansion's romantic and tastefully furnished rooms and pavilion. Spice of Life Catering, founded by Veranda's chef owner, Mike Bomberg, provided an exclusive menu for the French affair.
A large wooden door with an unusual circular window greeted guests as they arrived at the 1930s stone Estate House. Following registration, guests moved freely into a spacious room to sample a generous offering of charcuterie and imported cheeses.
From 6 to 6:45 pm, a server passed around baked mushroom caps filled with Moroccan lamb sausage, and shrimp and Ratatouille martinis. A nearby "cold table" offered a selection of imported cheeses, a duck pate´ and country-style Saucisson. The tasty hors d' oeuvres were just a preview of more to come.
A bar, across from a huge family room with a white rock fireplace, offered a selection of Bordeaux red, white and rosé wines. But le fete didn't rock until guests moved outside through double-French doors and onto a lush, green walkway leading to an air-conditioned pavilion.
The spacious pavilion contained dozens of round tables covered in white tablecloths. Centerpieces were adorned with miniature, blue, white and red French flags. Once seated, guests had easy access to a chef's station, a hot table and a dessert table.
The chef's station featured Petit Chateau Roast of Beef, au poiure carved to order and served on cocktail Brioche. The other savory option was hearth baked Pisadillares. The hot table boasted Marseille seafood fondue, Kalamata olive tartlets and Croque-monsieur Parisian sandwiches. The dessert table had an array of mini, chocolate Eclairs, assorted macaroons, tiny cream puffs and classic lemon and raspberry tartlets.
At the pavilion's far end, a larger-than-life picture of the Eiffel Tower set the "stage" for music provided by famed Austin singer/songwriter, Christine Albert. A member of Austin's musical elite and Grammy awards board member, Albert kicked off evening's musical entertainment with "La Marseillaise."
Guests, some sitting and others standing, joined in singing the French national anthem. Newcomers, unaware of "La Marseillaise's" significance mouthed the lyrics, "Allons enfants de la patrie" simply out of respect.
A handful of ladies donned fashionable evening attire, while others chose cooler summer dresses and slacks. Men sported everything from casual business attire to summer shorts. Albert spoke to the crowd about her French background.
Then, following an upbeat folk waltz, Albert's soulful rendition of the best-loved songs of French icon, Edith Piaf, evoked memories and strong emotions. Albert's distinct French vocals brought more than one Francophile to tears.
"Oh, I love that song," exclaimed Norma De León, a retired French teacher and AF member. "I have all of Edith Piaf's music and know all her songs," she said, in an impassioned reaction to Piaf's signature song, "La Vie En Rose."
In addition to the nostalgic French musical entertainment, Albert and her band played a number of upbeat selections that brought many guests-young professionals as well as seasoned dancers-to their feet.
As an added attraction, Charles Matt, AF president, put on his own theatrics. Matt took the stage as the lovable but inept French inspector Jacques Clouseau, the main character in the 1963 hit film series titled "The Pink Panther."
Donned in a tan trench coat and Trilby hat, Matt garnered both applause and laughs when joined by the Pink Panther cartoon character in the movies. Earlier in the evening, the towering Pink Panther had strolled through the pavilion posing for souvenir photos with several attendees.
The brief skit added humor to the entire event while enabling Matt to express his thanks to attendees, Spice of Life Catering, and a host of corporate and private supporters of the annual Bastille Day party.
One of the most visible event sponsors was Glass Lake Media, a production and media company. GLM's professional photographer captured the essence of one of the most romantic, memorable Bastille Day celebrations in recent memory.
Sponsors included Mila Cheatom, Lara Flynn and Don Thomas, Loren and James Kruger, Epitacio Resendez, Matt Schaub, The International School of San Antonio, and Green Room Architectural Salvage.
Alliance Francaise is a worldwide organization with 111 chapters in 45 states. Founded in France in 1883, AF's goal is to promote French language and culture. AF de San Antonio is open to anyone interested in learning the French language and more about French culture.
AF offers French language classes and tutoring, special French-focused dinners and film screenings. AF is a proud participant in the annual Texas Folklife Festival as well. Member benefits include discounts for all events and admission to the annual members-only Christmas party.
Visit www.afsanantonio.org or www.facebook.com/afsanantonio for more information. To view, print, or download more photos from Bastille Day 2019 at no cost, visit the Bastille Day gallery at Glass Lake Media.